Leader: Kay Braithwaite
The Play-reading Group has been in existence for over ten years and meets twice per month on the first and third Thursday afternoon, between 2 pm and about 5 pm.

We have read a wide range of 3-act plays from Shakespeare to Alan Bennett, including Shaw, Wilde, Priestley, Rattigan and many others.
Members do not need acting skills to take part in play-reading, but may find themselves developing such dramatic skills as they read more plays.
We meet in members' houses, with sessions finishing with tea & biscuits and discussion.
Prospective new members are welcome to contact the Group Leaders for further information.
Note:
For the current programme of events/meetings please click on the News button to view the latest Newsletter.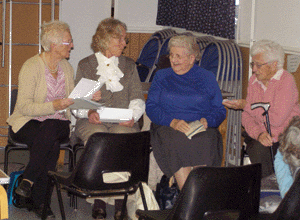 Members of the group preparing to read
Poetry at the "Birds, Birds, Birds" LVU3A Study Day