Leader : Sue Spice
The group which was reformed in January 2006 has since regularly held successful short walks with between with 14 and 34 people taking part each time. At this stage it is felt a group size of 40 is probably the maximum for any particular walk.
It is intended that, in as far as is possible walks will take place on the 3rd Sunday in each month and be between 2 and 3 miles in length. Weather permitting the group meet at the chosen venue at 10.15am with the walk starting at 10.30hrs. The start/finish point is somewhere where it is easy to park vehicles and normally where there is a place to obtain at least tea or coffee at the end of the walk.

Whilst the routes chosen will normally be restricted to well marked footpaths, boots, trainers or other sensible shoes are the recommended footwear.
If you require more infomation contact details can be found on the latest copy of the Newsletter, either a paper copy collected at our meeting or the version which has been e-mailed to members, not the version available to read on this website. The Newsletter will also contain details of when and where the next walk is to take place; you will find the entry towards the end of the list of Groups, under "Walks".
Alternatively please make contact using the email address shown in the left hand column of the 'CONTACTS' page (see margin).

NEXT WALK:-

Sunday, 23rd January 2022 -

Meet at the Broxbourne Lido Car Park, Nazeing Road, Broxbourne, EN10 6TD, drive straight along - park in the area through the arches - free on Sunday.
We are meeting at.10.15am for a 10.30am start, on the New River path. Whilst the path was mostly good, crossing across further on it was a bit mucky, and returning from Dobbs Weir along the Lea, there were large puddles and some quite muddy areas. There are some steps to climb. Boots/Wellington boots are a must. Hopefully it will dry up a little this week.

All members of LVU3A will be welcome. Please see the Newsletter for contact details.

Some of our members during our walk in the Lea Valley Park, January 2020: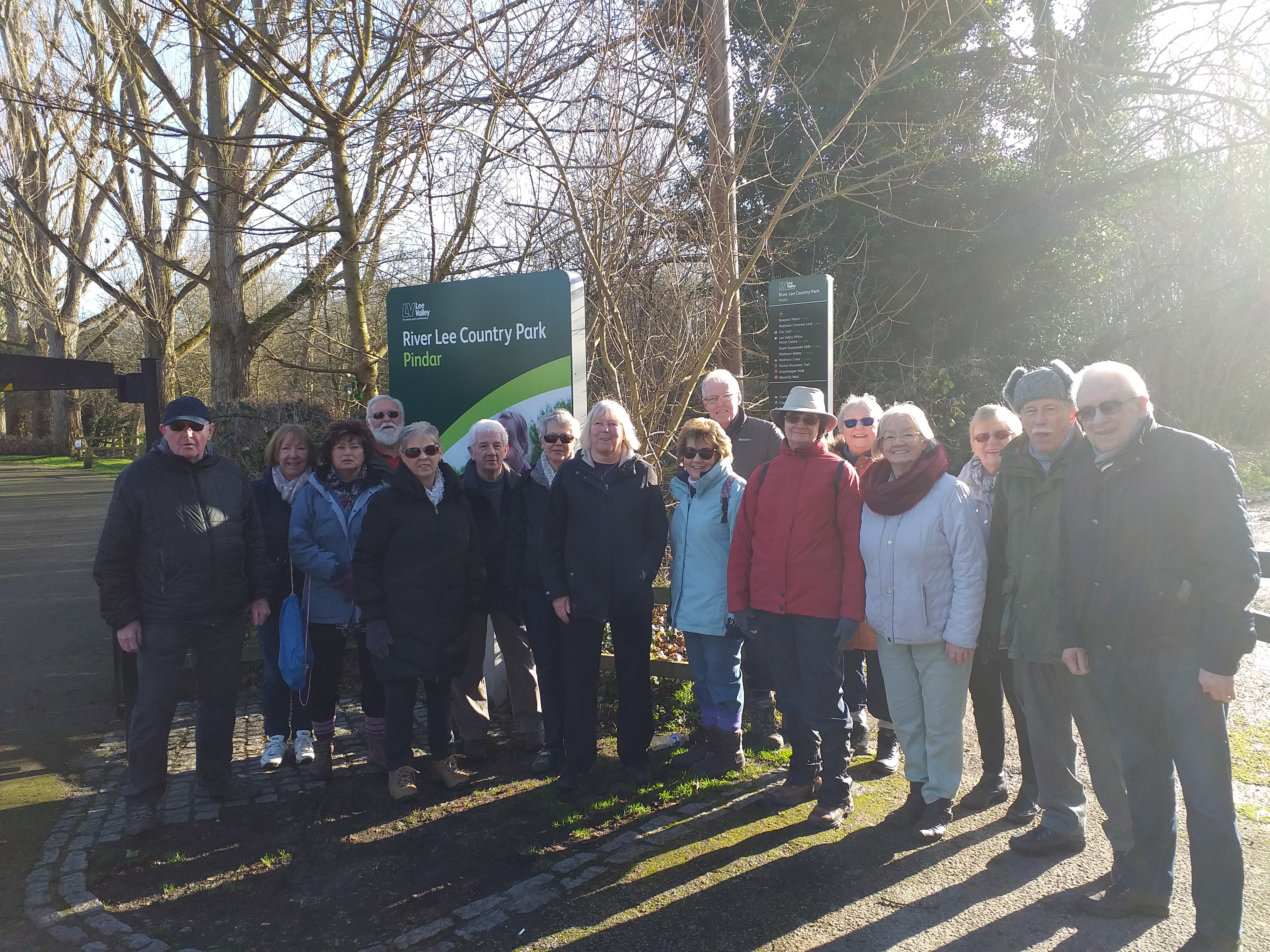 A couple of photos taken by Reg Roskams of our walk at Ware in November 2019: